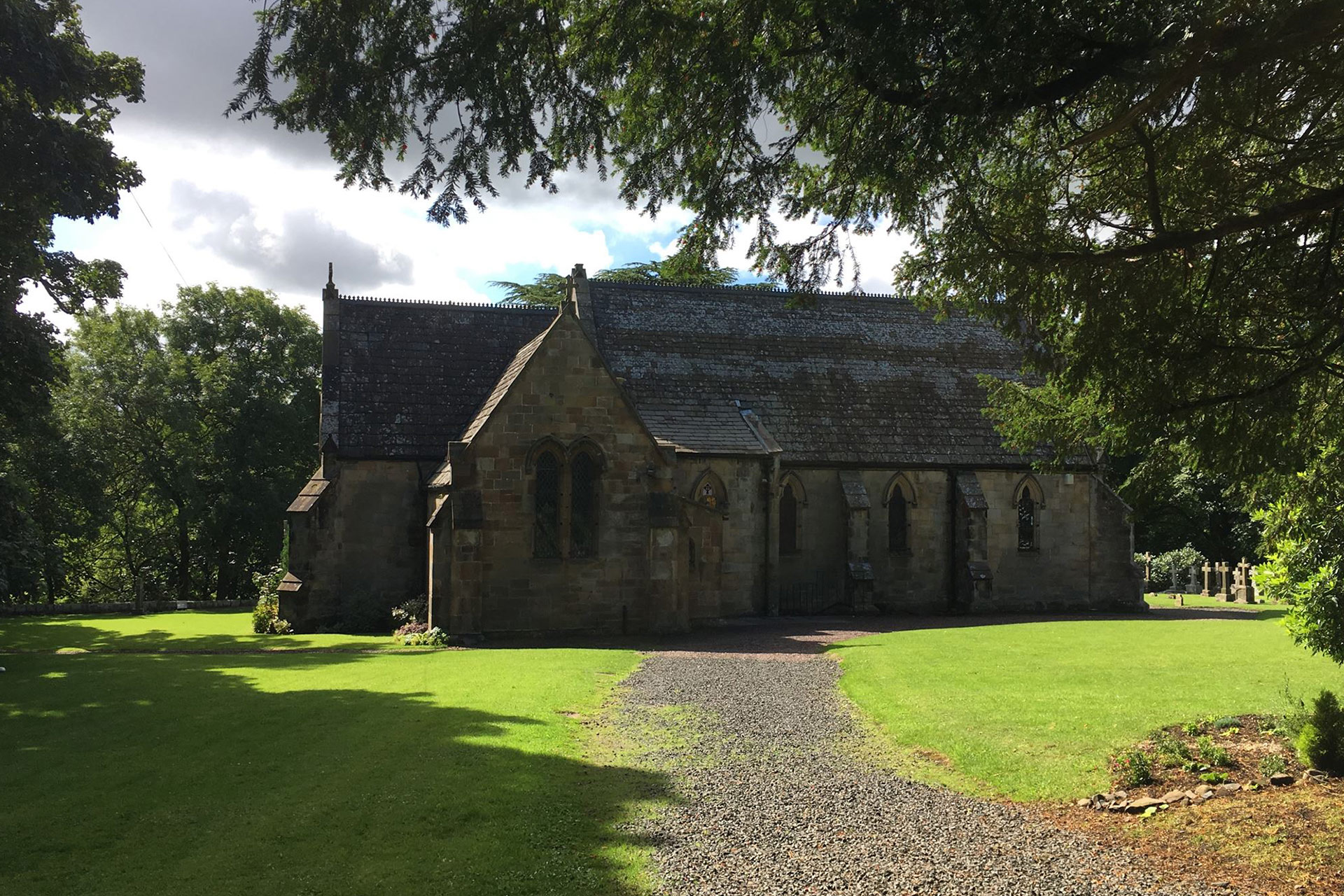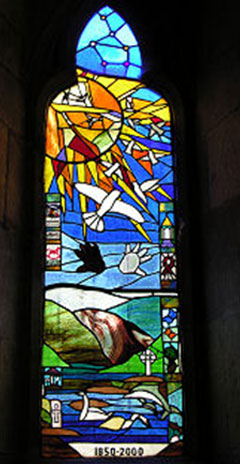 The Millennium window was made by members of the congregation and members of the stained glass group from "Stepping Stones", and installed in February 2001. Following a suggestion to Vestry during 1998 that it might be appropriate to have a permanent memento in the form of a stained glass window, for the year 2000, marking the 150th anniversary of the building of St. Mary's, it was agreed to look into the possibility of having a window made.
Geoff Angell (People's Warden 1996-2000), working at Edinburgh University had witnessed the unveiling of a remarkable stained glass window called the "Cycle of Life" in the Chaplaincy Centre. This was the result of three years' work by members of the stained glass group within Stepping Stones, part of Edinburgh University Settlement. "Stepping Stones", a mental health support group offers activities such as creative writing, open art classes, therapy, music and stained glass work.
The group was first approached in the Spring of 1999 to see if they would undertake making a window for St. Mary's. Geoff and Father Dean Fostekew visited the workshops soon after, meeting Michell Gunn and Gary Smith (Coordinator and Stained Glass artist respectively), who explained the work of the group, the sensitivities of the participants and the problems that could arise if we were to put the group under any sort of pressure. An invitation was extended to some of the congregation to practise alongside members of the group. Later it was suggested St. Mary's might like to set up its own workshop, thereby taking any concerns off Stepping Stones should interest fall away. This idea was greeted enthusiastically as it allowed many young and working people to become involved. Gary Smith and members of the stained glass group came out and taught us how to cut and join glass.
Anne Dennis, an artist and stained glass worker from Stepping Stones came to St. Mary's and sketched our ideas of what we wanted to include in the window, and so a detailed drawing was made and during the year 2000, work went on simultaneously at Stepping Stones and here at St. Mary's. By the Autumn of 2000, the 500 pieces made by the stained glass group and ourselves were assembled here and the window put in place under the guidance of Eddie Goodfellow.
Included in the design are four of the charities to which St. Mary's gives active support: Children's Hospice Association Scotland with the rocking horse logo; Jubilee 2000 with the broken chain; Aberlour Child Care Trust; and the red ribbon showing our support for Aids sufferers and their families. Above the latter is the logo for Mission 21. Also in the foreground are stepping stones denoting our association with the stained glass group.
This project was generously sponsored by our long standing member, the late Mrs Jessie Mitchell. Although registered blind, Jessie was able to pick out the pattern and bright colours of the window.
St. Mary's Church Dalmahoy